Dodge has unveiled its next "Last Call" model, the 2023 Dodge Charger King Daytona. Dodge says that this special Charger draws inspiration from the 1960s and 1970s West Coast drag scene.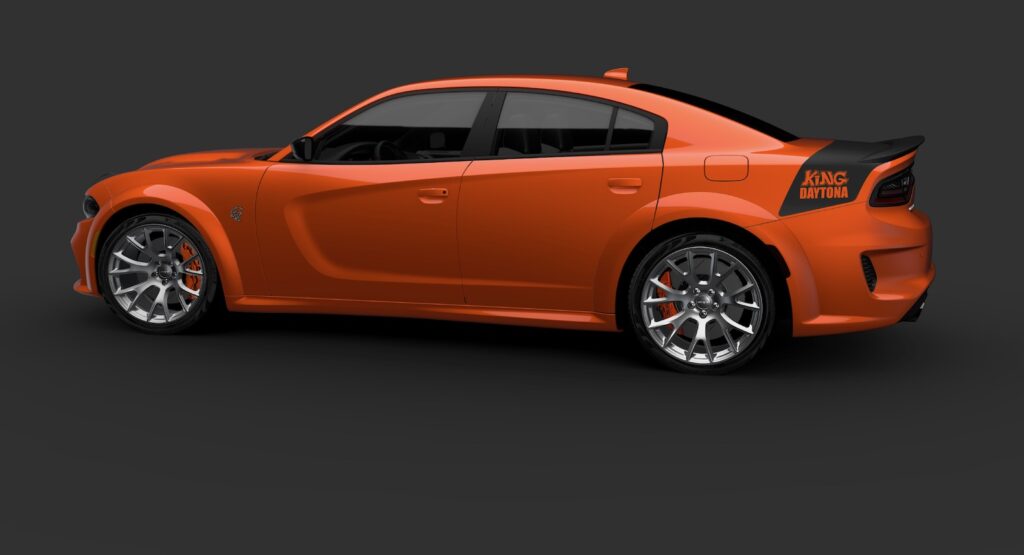 Specifically the Charger King Daytona, gets its name from "a famous monarch of the 1960s and 1970s West Coast drag-racing scene: William "Big Willie" Robinson, who nicknamed his 1969 Dodge Charger "King Daytona" and used it not only in claiming victory at the drag strip, but also in keeping racers on the track and off the streets."
The 2023 Charger King Daytona adds an extra 10 horsepower from what you get with the Charger SRT Hellcat Redeye, from 797 to 807 hp. It stands out with its satin black King Daytona rear fender graphics, satin black hood and roof graphics, 20-inch Satin Carbon Warp speed wheels, chrome badging and orange six-piston Brembo brakes.
Inside it features black Nappa/Alcantara "Daytona" seats with orange stitching, orange stitching on the instrument panel, console, steering wheel and door trim. It also has a suede headliner, a Harman Kardon audio system, and a sunroof.
Dodge plans to only build 300 of the Dodge Charger King Daytona special-edition vehicles