The Genesis GV60 is an all-electric, compact luxury SUV that is brand new for 2023. It competes against a growing field that for now includes the Tesla Model Y and Volvo XC40/C40, as well as the Hyundai Ioniq 5 and Kia EV6, which share a platform with the GV60. The GV60's easy-to-use technology and luxury make it a standout.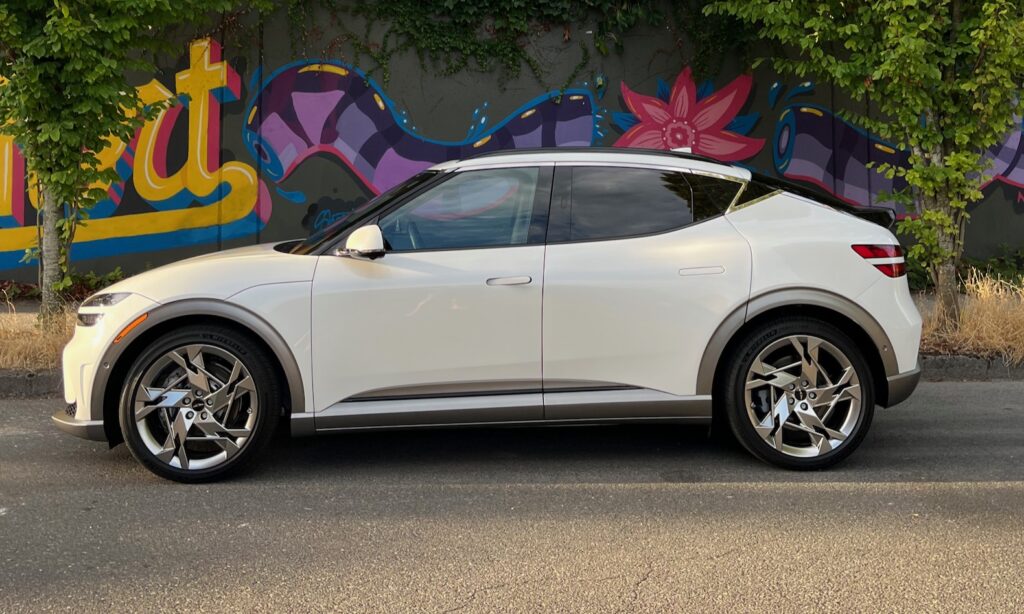 The GV60's exterior styling is a mix of conventional SUV and Genesis funkiness, shrunk down into a compact package. Viewed in profile, the GV60 looks almost stubby with tiny overhangs front and rear, and a rear window that curves down quickly at the C pillar. Genesis' signature parallel lines are found on both the headlights and taillights, and the lower grille is also subtly pentagon shaped in a nod to the other vehicles in the lineup. The cladding that lines the bottom of the GV60 is also gray on all models, so keep that in mind when choosing an exterior color. 
As expected from an EV, the GV60's acceleration is robust and it has plenty of power on tap at all times. All Genesis GV60 come standard with dual-motor AWD. We've only had a chance to test the Performance version of the GV60 and it feels quicker than its estimated 0-60 mph time of 4.0 seconds. The Advanced models should also be more than powerful enough, given our experience testing its dual-motor powertrain in both the Ioniq 5 and EV6.
The Performance models come with a bright green "BOOST" button on the steering wheel that activates an extra 54 hp when pressed in 10 second increments. Genesis says that there is a limit to the amount of times you can activate this mode to allow components to cool, but I was able to activate it six times in a row on a very hot day. Hitting this button is especially satisfying when merging onto highways or on a twisty road; there's a noticeable difference in power and it makes the top of the throttle even more responsive.
Where the GV60 falls a bit short is its suspension, which is surprising given that it employs the same active suspension with a road-reading camera setup that we liked in the larger GV70. The GV60 offers a wide range of regenerative braking settings, from a one-pedal mode to none at all via paddles on the steering wheel. Each of those setups are well-tuned, transitioning from regenerative to real braking seamlessly and with a consistent pedal feel.
The GV60 offers up to 248 miles of range. The Advanced goes 248 miles on a single charge, while the more powerful Performance is close behind at 235 miles. It falls short of segment leaders that includes the Ioniq 5 and EV6, which offer 256 and 274 miles of range respectively with the same AWD/battery pack setup. The reason the GV60 falls short of its Korean counterparts is in part because of its girth; it weighs in at about 200 pounds more than the other two despite its smaller dimensions.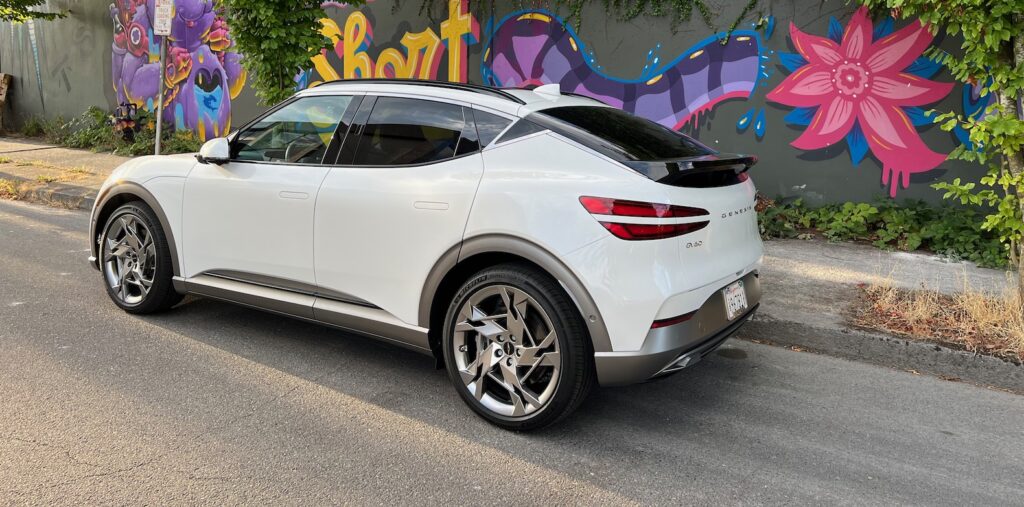 It trails in efficiency as well, averaging 2.8 miles per kwh in Advanced and 2.7 miles per kwh in Performance. Genesis does include three years of 30-minute complimentary charging sessions via Electrify America. That's plenty of time for quick charging, given the GV60's 800-volt architecture that allows it to charge at up to 250 kw and go from 10% to 80% in just 18 minutes (when you can find a fast enough charger).
The GV60 has yet to be crash tested by the IIHS or the NHTSA. What we can say is that the GV60 comes with one of the strongest standard safety feature sets on the market, which is in sharp contrast to other luxury vehicles. The usual suspects are standard, such as automatic forward emergency braking, front and rear parking sensors, and blind-spot monitors. But the GV60 goes further and adds a surround-view camera system, head-up display, adaptive cruise control, a blind-spot display that shows a live camera view in the instrument cluster, automatic high beams, and automatic wipers. All standard.
The interior comes without such caveats, with an ergonomic and stylish layout. A circular cabin theme can be seen on the climate controls, vents, on the doors, and even the glove box. Though the GV60's flipping orb might seem gimmicky, it also has a purpose. It can be hard to tell when an EV is turned on and all it takes is a quick glance down and if you see the orb, you know the vehicle is off.
The GV60 uses its small footprint impressively, with good passenger room across both rows. he GV60 is among the smallest and shortest vehicles in this class, but efficient packaging gives it good passenger and cargo room. At 177.8 inches long, the GV60 is much shorter than the Model Y (9.3 inches) and the Ioniq 5 (4.7 inches). But it still offers a good amount of legroom for both rows of seats with 37.6 inches in the rear and 24.0 cubic feet of cargo storage behind the back seat. Its bubbly cabin shape also results in good headroom for both rows as well.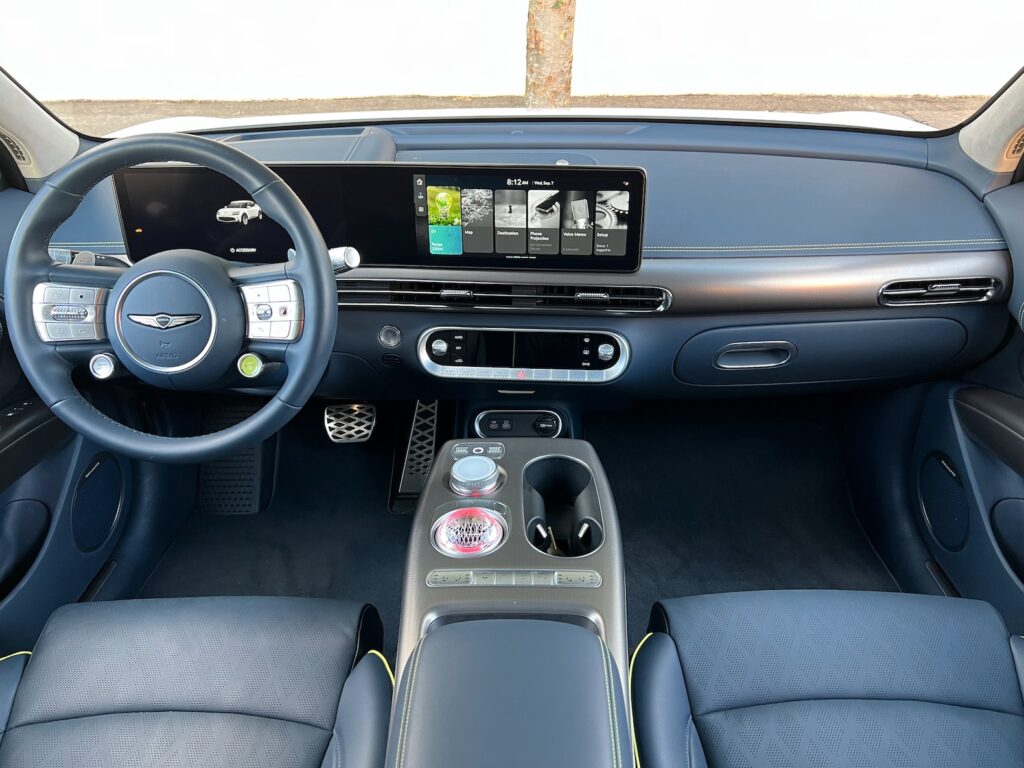 For a small SUV, the GV60 feels remarkably open and airy for all passengers. Poke around the cabin to be impressed by the consistency of cabin materials. There isn't a cheap spot to be found except for perhaps the plastic bezel around the displays, but that is nitpicking of the highest degree. Performance models add nappa leather upholstery in a diamond-cut pattern that is both visually appealing and highly comfortable.
The Advanced model ($59,985) will be enough for most folks. It's on par with the Performance trim's technology and has plenty of performance in its own right. That technology includes the GV60's best party trick: facial recognition and a fingerprint scanner that let you start the vehicle without a key or a phone. It's easy to se tup, and uses a camera in the B-pillar to lock and unlock the GV60, and a fingerprint scanner in the console starts it. The infrared camera reads your face in darkness or bad weather, and won't be fooled by a photograph or printed image. The vehicle stores two profiles for owners to share the functionality. When charging, however, it requires an extra safety step so the driver has to open the door and unlock the charge port by clicking on the power door locks.  
Also standard are 12.3-inch screens up front for both the instrument cluster and infotainment system. It still requires a cord for smartphone compatibility, but Android Auto/Apple CarPlay display fully across the infotainment screen. Luxury features come standard on the GV60, with power front seats that are heated and cooled, a Bang & Olufsen 17-speaker sound system, a heated steering wheel, a wireless charging pad, retractable door handles, and a remote parking system that allows you to move the GV60 forward or backwards with just the keyfob.
The Performance model adds $9,000 to the price tag of the Advance to $68,985. With that increase comes more power and a more sophisticated suspension (for better or worse), along with other luxury features such as nappa leather upholstery, heated rear seats, and a massaging driver's seat. Unlock and drive the GV60 without a key or phone, via its facial recognition and fingerprint technology. The GV60 excels in small CUV EV category, with tons of standard equipment, solid options for the higher trim level, large screens, and a great 5-year/60,000-mile basic warranty, as well as a 10-year/100,000- mile powertrain warranty.
Genesis is still the new kid on the block but with knockouts like the GV60, has quickly become top dog in its class. With stunning looks, commendable driving manners, competitive EV capabilities, and topnotch technology with a great value proposition; it's easy to see how the new Genesis GV60 is stellar. For those looking to try something new and step out of the current EV crowd, the GV60 is definitely worth a look.