Automotive Defense Specialists, a skilled team of defense attorneys, is announcing a new post on the importance of finding legal support in the SMOG industry. Auto repair shops need to know their legal rights vis-a-vis California's Bureau of Automotive Repair.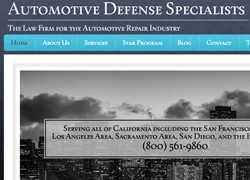 SMOG shop attorney
Auto repair shops need to know their legal rights vis-a-vis California's Bureau of Automotive Repair.
LOS ANGELES – December 30, 2021 – (Newswire.com)
 Automotive Defense Specialists, a California-based law firm representing SMOG technicians and auto repair shop owners at https://automotivedefense.com, is proud to announce a new post. Actions by the state's Bureau of Automotive Repair can contain statements blaming an auto tech for actions beyond their control. If an auto repair shop receives a letter implying wrongdoing, it may be time to find a defense attorney.
"There are many things out of the control of a SMOG testing station. For instance, if a car can't pass all the testing requirements, it could be the car itself. The state Bureau of Automotive Repair can be overly aggressive in its enforcement relying on statistics and not facts," explained attorney William Ferreira of Automotive Defense Specialists. "Our defense attorneys work passionately for the rights of hard-working technicians and SMOG shops in California."
The California auto repair community can review the new post at https://automotivedefense.com/2021/11/19/running-a-smog-shop-has-many-issues-and-not-just-awkward-customers/. As the post explains, a violation letter can cause confusion and frustration for a SMOG technician or auto repair shop owner. The Bureau of Automotive Repair may be prepared to file administrative actions and even shut down a SMOG business. Finding the best SMOG shop attorney to handle the defense in court can be the next step. William Ferreira and his legal team can help review the issues and fight in court. Violation letters from the Bureau of Auto Repair can include STAR invalidation cases, interim suspension orders, and citation defense cases. The legal team can even manage criminal defense charges and support an auto repair shop owner through the entire process.  The legal team has first-hand experience in the SMOG testing and auto repair industry. The legal defense team supports so-called mom-and-pop auto shops, independent dealerships, and smog testing and repair technicians. More can be learned at https://automotivedefense.com/about/.
TOP SMOG SHOP ATTORNEY ENSURES AUTO REPAIR TECHNICIANS DON'T TAKE THE BLAME FOR FAULTY CARS
Here is the background on this release. The SMOG testing industry is considered a highly regulated area designed to ensure cars meet clean air standards in California. A professionally trained smog technician may do their best to provide a customer the best air pollution testing experience yet cannot control whether a car passes or fails. Depending upon the age and make of an automobile, it can suffer from several smog-related issues. In this highly regulated and contentious industry, the best course of action may be to retain a SMOG shop attorney.
Press Release Service
by
Newswire.com
Original Source:

Automotive Defense Specialists Announces Post on Seeking a SMOG Shop Attorney to Defend against California's Bureau of Automotive Repair