The days of the V8-powered Mercedes-AMG C 63 are gone, but in its place we have the 2024 Mercedes-AMG C 63 S E Performance. The newest C 63 is now powered by a turbocharged, plug-in hybrid four-cylinder powertrain that generates a combined 671 horsepower and 752 pound-feet of torque.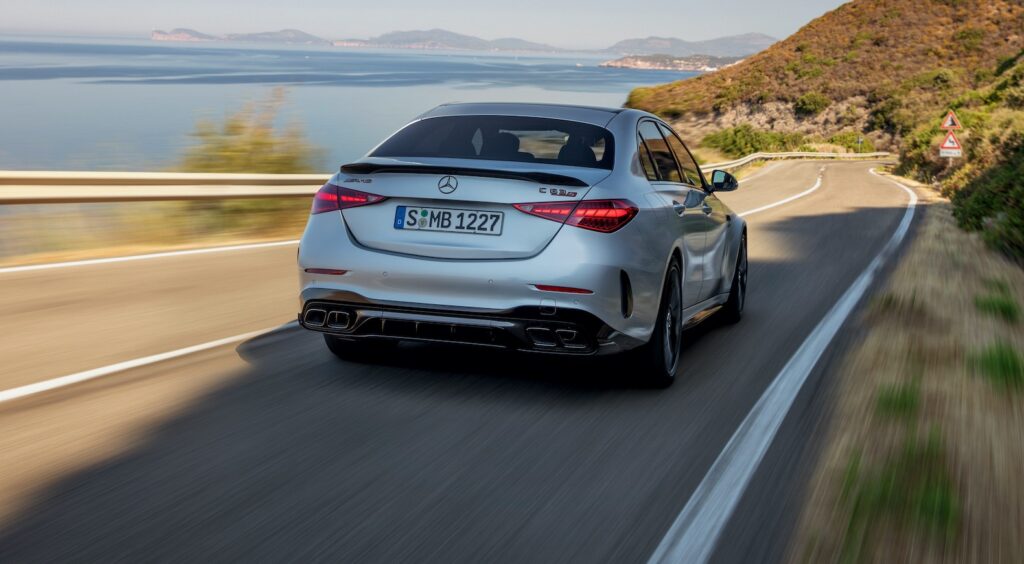 The plug-in hybrid powertrain mates the M139l 2.0-liter engine with a 201 hp rear-mounted electric motor and a two speed gearbox. The four-cylinder alone generates 469 hp and 402 lb-ft. and is mated to a nine speed transmission. Mercedes says that the C 63 S E Performance can accelerate from 0-60 mph in an estimated 3.3 seconds and a top speed of 174 mph. In all three driving scenarios: gas, hybrid and electric, an all-wheel drive system can send power to all or a set of wheels.
The electric range has not been announced, but we don't expect much from the 6.1-kWh battery pack, which only provides 7 miles of range in the AMG GT 63 SE E Performance four-door.
Other performance upgrades include electronically adjustable shocks, four-wheel steering and upgraded brakes. The C 63 S E Performance also stands out with its more aggressive front and rear fascias. Sportier seats are also optional.