In the midst of a hot Aussie summer, there's nothing better than spending a day at the beach. But if the car park is packed and it's too far to walk, you may want to invest in an electric bike you can ride to the beach.
Whether you're looking for a laid-back coastal cruiser or an off-road-ready model you can take on the sand, there are plenty of models to choose from. And with the help of an electric motor, you can ride further without working up too much of a sweat.
In this guide, we'll look at the key factors you need to consider to find the best e-bike to ride to the beach.
What is an electric bike?
Most electric bikes in Australia use what is known as a pedelec (or pedal assist) system. This means that the battery-powered electric motor on your bike only offers assistance as you pedal. You get to choose how much assistance you want the motor to provide, but the motor cuts out once you reach 25km/h.
Electric bikes come in many different styles and designs, from city commuters to rugged e-mountain bikes. Many riders looking for an e-bike to take to the beach opt for a cruiser model. With classic style and features designed to ensure a comfortable ride, they're an obvious choice.
Of course, there are plenty of other bike styles that are suitable to take to the beach. Some riders prefer folding bikes, which can be particularly handy if your trip to the beach includes a stretch on public transport. Storage, such as pannier racks and baskets, can be a handy inclusion, while wide and grippy tyres are also useful if you're planning to take your bike off-road (or off-pavement).
You can find out more about the different types of bikes available in our electric bicycle buying guide.
5 of the best electric bikes for the beach
---
Surfers' option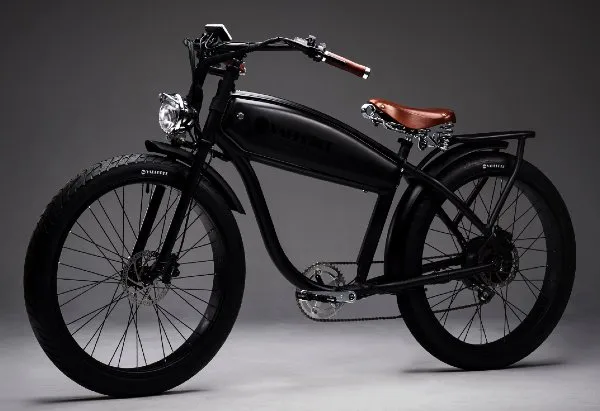 Vallkree The Bodhi Surf Bike 250. With a range of up to 40km and a recharge time of 2-3 hours, the Bodhi Surf Bike 250 also comes with a back pannier rack that holds board racks.
---
Long-range option
Polygon Path E5. The Polygon Path E5 has a claimed range of up to 185km and a weight of under 20kg, making it one very versatile performer.
---
Folding option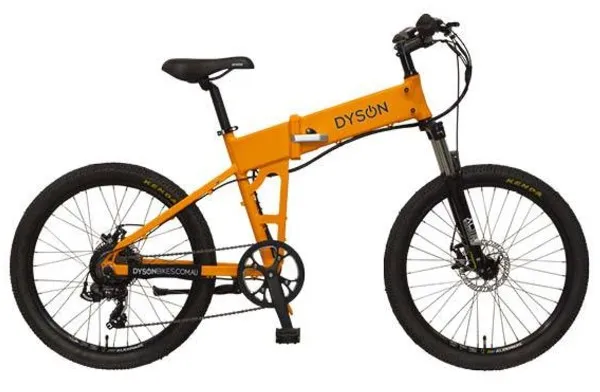 Dyson Adventure. With its 20-inch wheels and folded dimensions of 88 x 69 x 40cm, the Dyson Adventure is handy if you're short on storage space or need to take your bike on public transport.
---
Fat bike option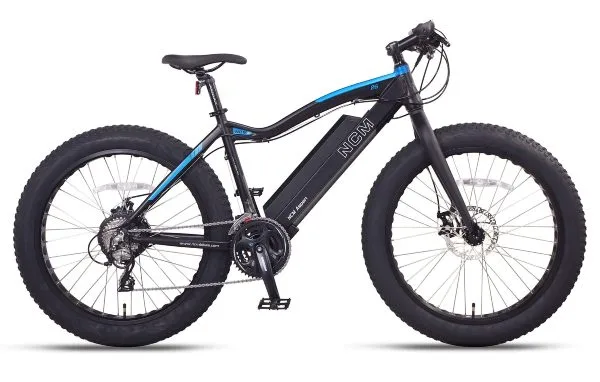 NCM Aspen. The large surface area of these four-inch-wide tyres provides extra grip on sandy terrain, while the 624Wh battery provides a claimed maximum range of up to 120km.
Buy this electric bike at Leon Cycle
---
All-rounder option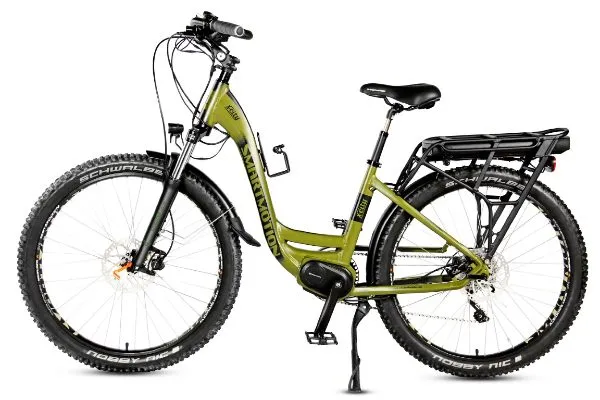 SmartMotion X-City. Combining and upright seating position with Schwalbe tyres and a mid-mount motor, the SmartMotion X-City has more to offer than just looks.
---
There are several factors you should consider when choosing an electric bike for the beach. These include:
Type of bike. Consider the style of riding you want to do. Do you want an e-MTB for off-road use, a versatile commuter bike, a stylish cruiser or maybe a folding bike?
Battery. Check the specs sheet to find the battery capacity, measured in Watt hours (Wh). The higher this figure, the longer range you can expect. Also, check how long it will take to recharge the battery.
Motor. You can also check the specs sheet for the motor's power and torque figures. Check whether the motor is hub-mounted (generally more affordable) or a mid-mount model (better hill-climbing ability and weight distribution). Read more in our guide to long-range e-bikes.
Wheels and tyres. Check the size of the wheels — larger wheels ensure a smoother ride, but bikes with smaller wheels will take up less storage space (particularly if they fold away). A set of wide, knobbly tyres will also help provide extra grip if you'll be taking your bike on the sand.
Gearing system. Does the bike use internal hub gears or derailleur-type gears? How many gears can you choose from and is the gearing system provided by a reputable manufacturer?
Accessories. E-bike accessories such as pannier racks, baskets and LED lights can help make your bicycle more practical and suitable for beach trips.
Size and weight. If you're taking your bike on public transport or don't have much storage space, you may want to consider a folding electric bike. If you'll need to carry your bike up a flight of stairs, you may also want to check its weight before you buy.
Comfort. If you get the chance to take a bike for a test-ride, do so. This is the perfect way to tell if a bike is the right size for you and work out whether it will be comfortable to ride for long periods.
Warranty. Check the length of the manufacturer's warranty and exactly what it covers.
Price. If you're shopping for an entry-level e-bike for the beach, prices range from approximately $1,000 to $2,500. There are plenty of higher-specced models above this price point, with some electric bikes costing more than $10,000.
If you're ready to buy, visit one of the following sites.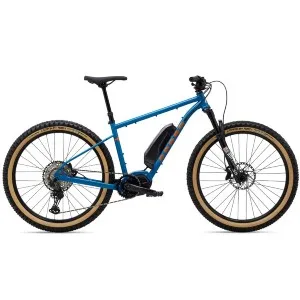 1. Bicycles Online
With a great selection of electric bikes available and a free 14-day test ride offer, you're guaranteed to find an e-bike to suit your needs at Bicycles Online.
Free delivery to most Australian postcodes
Free 14-day test ride
Afterpay available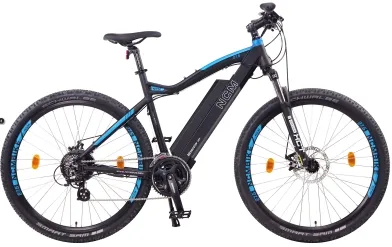 2. Leon Cycle
Leon Cycle offer a wide range of NCM electric bikes, conversion kits and repairing tools.
All electronic parts have a 1 year warranty
Bike frames come with a 2 year warranty
All bikes are delivered to you pre-assembled
Go to Leon Cycle
---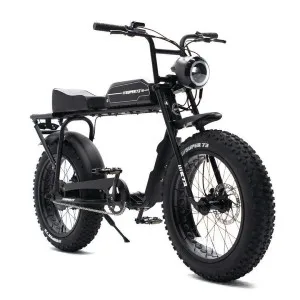 3. Crooze
With a huge range of e-bikes, you'll be sure to find your next commuting bike at Crooze.
Free shipping on orders over $50
Afterpay, Zip and Humm all available
30 day free returns (but conditions apply)
Go to Crooze
---
Pros
Wide range of options. From wide-tyred cruisers to portable folding bikes, there's a huge variety of electric bikes to choose from.
Ride further. Live a long way from the beach? An e-bike can help make a challenging distance into something much more manageable.
Use less energy. E-bikes also allow you to cycle further without using as much energy, so you don't have to worry about getting all hot and sweaty as you ride home after a cooling swim.
Cons
You'll need to secure your bike. Parking your e-bike on the pavement while you head down to the water for a swim? It'll be an attractive target for thieves, so make sure you've got a secure bike lock.
Expensive. Even most entry-level electric bikes will set you back more than $1,000, so buying an electric bike for the beach is a sizable investment.
Extra maintenance. You'll need to be prepared to do a little extra maintenance work to prevent salt and sand from damaging your e-bike. It's also important to keep your bike away from the water — though they may be somewhat water-resistant, e-bikes aren't waterproof.
If you're looking for a simple and affordable way to get to the beach, an electric bike could be just what you need. E-bikes help you ride further with less effort, and there's an increasingly wide range of models to choose from.
However, e-bikes aren't cheap (although some bargains can be found for under $2,000). So, it's important to compare a variety of options before you buy. You'll also need to put in some extra maintenance work to keep your bike in top condition while investing in a secure bike lock is also a good idea.
What sort of range can I expect from my e-bike?
Take a look at the battery capacity specs and the manufacturer's claimed maximum range to get an idea of how far you'll be able to get on a single charge. However, remember that factors like your weight, the type of terrain you're cycling on and the level of assistance you select can all affect maximum range. As a general guide, depending on the model you choose, e-bikes can take you anywhere from 30-150+ kilometres.
Are there any power limits that apply to e-bikes?
Yes. Pedelecs are limited to motors with a maximum power output of 250W, while non-pedelec bikes are limited to 200W. Regulations also vary from state to state, so be sure to check the law where you live before choosing an e-bike.
What sort of maintenance tasks will I need to perform on my bike?
Cleaning away sand and salt after every ride will help keep all parts in good working order. You'll also want to keep your chain lubed, while getting your bike serviced regularly will help you get on top of minor issues before they can develop into serious problems.