[ad_1]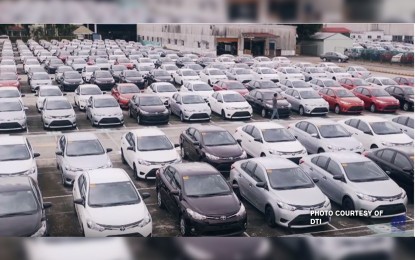 MANILA – The Chamber of Automotive Manufacturers of the Philippines, Inc. (CAMPI) and Truck Manufacturers Association (TMA) reported Monday that sales of local vehicle assemblers reached pre-pandemic level in March this year.
Automotive vehicles sales last month grew 43.4 percent to 29,685 units from 20,702 units in March 2021. 
Month-on-month, vehicle sales rose by 22.1 percent from 24,304 units last February.
This despite sales of passenger cars slightly slipped by 0.5 percent to 6,625 units last month from 6,661 units sold in March last year. 
This was offset by commercial vehicle sales, which rose 64.2 percent to 23,060 units in the previous month from 14,041 units in March 2021.
"March performance has already reached the industry's pre-Covid level of sales, and now the highest monthly sales recorded since the onset of the pandemic based on our data," CAMPI president Rommel Gutierrez said.
Gutierrez added this milestone for the industry signals continued recovery as business operations and the economy start to normalize.
Meanwhile, industry sales from January to March this year also improved by 6.3 percent to 74,754 units from 70,312 units in the first quarter of 2021.
Passenger car sales declined by 16.2 percent to 18,323 units this year from 21,855 units in the same period in the previous year.
Commercial vehicle sales, on the other hand, rose by 16.5 percent to 56,431 units from 48,457 units for the same period.
Commercial vehicles share 69 percent of the total industry sales, while passenger cars at 31-percent share.
"The industry remains 'cautiously optimistic' for full recovery this year as we just started the second quarter. At this point, it is indeed crucial that we remain on guard against any potential risks in achieving full economic recovery, and pre-pandemic levels of business and consumer confidence at the same time," Gutierrez added.
Industry leaders for the first three months of the year are Toyota, Mitsubishi, Nissan, Ford, and Suzuki. (PNA)


[ad_2]

Source link